AB569 Science Development Lead

Dr. Daniel J. Hassett, Ph. D. (1958-2022) Innovative microbiologist, lead scientist for AB569 – a drug candidate for treating antibiotic resistant bacterial infections.
Dan Hassett, a longtime faculty member and researcher in the University of Cincinnati Department of Molecular Genetics, Biochemistry and Microbiology, and valuable leader of the Arch Biopartners science team leading the development of AB569 – passed away in April 2022.
Throughout his career Dr. Hassett passionately pursued novel treatments to combat antimicrobial resistant bacteria and was a committed and tireless supporter of Cystic Fibrosis research. Not only did he achieve significant research developments in the field and in the pathogenesis of Pseudomonas aeruginosa, but he continually worked to raise funding, research support and awareness about the fight against CF. His contribution, insights and friendship will be sorely missed by the entire Arch Biopartners team.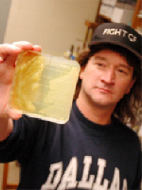 In December 2021 Arch Biopartners announced that Dr. Daniel Hassett, Professor at the University of Cincinnati College of Medicine – leading the AB569 team at Arch, published a paper entitled "AB569, a Novel, Topical Bactericidal Gel Formulation, Kills Pseudomonas aeruginosa and Promotes Wound Healing in a Murine Model of Burn Wound Infection" in the ASM journal Infection and Immunity .
Hassett's research found that AB569 kills virtually all pathogenic bacteria tested with no observed acquired resistance. "AB569 can be a global game changer and has the potential to positively impact lives around the world, and not just in airway-related infections," Hassett said in 2018. The drug, a combination of acidified nitrite and EDTA (ethylenediaminetetraacetic acid), was also found to enhance the healing of wounds in a variety of burn injuries. AB569 is now in clinical trials.
Dr. Hassett was a Professor in the Department of Molecular Genetics, Biochemistry and Microbiology at the University of Cincinnati (UC) College of Medicine. As an expert in bacterial pathogenesis he had been working with the major CF pathogens including Pseudomonas aeruginosa (PA), Staphylococcus aureus and Burkholderia cepacia. Before his passing, he had over 130 published manuscripts.
Hassett was awarded six patents for his research and has several patents pending. He was the principal investigator or collaborator on projects that received more than $12.1 million in funding during his career at UC. Read more at the UC News Website : Remembering UC College of Medicine Researcher Dan Hassett, Ph. D.
In 2016, UC presented him with the Emerging Entrepreneurial Achievement Award and two years later he received the Established Entrepreneurial Achievement Award. He was named to a list of the world's top 2% most cited scientists and also served on the Scientific and Medical Advisory Board of Tauriga Sciences, Inc., was co-founder and chairman of the Scientific Board of Pilus Energy, and was co-founder and chief scientific officer of Epiphany, Inc.
In 2006, he discovered that anaerobic, acidified sodium nitrite (A-NO2-) killed mucoid PA in: (i) refractory communities known as biofilms, (ii) a mouse model of PA chronic infection and (iii) airway surface liquid derived from a CF lung transplant patient. The results of his studies were published in the prestigious Journal of Clinical Investigation.
A native of Rochester, New York, Hassett received his doctoral degree in microbiology and enzyme biochemistry in 1987 from the State University of New York College of Environmental Science in Syracuse. After serving as a postdoctoral fellow at Duke University, he joined the faculty at the University of North Carolina. He came to the College of Medicine in April 1993 as an assistant professor and was named a professor in 2008.